Middlesboro Coca-Cola Company History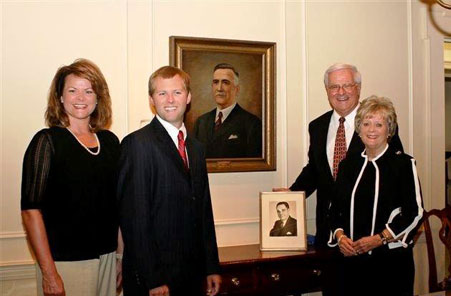 In 1904, Richard Morehouse Barry started bottling Coca-Cola in the back of a candy store.
 He used a foot- pedal bottling machine, which we currently display in our front lobby. This was truly a "Mom and Pop" operation with the family living over their store on Cumberland Avenue in Middlesboro, Kentucky. Coca-Cola was delivered by a horse wagon and by the railroad system. With six employees, a plant was established in London, Kentucky in 1913 and continued until 1923 when we began to service that area from Middlesboro. Middlesboro Coca-Cola also had a production and distribution center in Harlan, Kentucky. The Harlan distribution center closed in 1972, all operations then moved to Middlesboro Coca-Cola Bottling. Had Mr. and Mrs. Barry lived, they would have seen their operation grow into the modern Coca-Cola bottling plant that is currently one of the largest employers in the Tri-State Region (Kentucky, Tennessee and Virginia). The leadership of the company was then passed to their son; Neil Barry Sr. He was very community oriented and truly loved the people in this area.
Neil Barry Sr. passed the legacy on to his son Neil Barry Jr., who is the current President of Middlesboro Coca-Cola. Neil Barry Jr. has served on the Board of Governors of the Coca-Cola Bottlers' Association and the Coca-Cola Bottlers' Foundation. Neil was also President of the Main Stream Council and a Board member of the Kentucky Beverage Association.
Middlesboro Coca-Cola is very proud of their accomplishments and continues to provide a variety of products to their consumers. The Coca-Cola Company offers over 700 beverage options in North America. Middlesboro Coca-Cola is a fifth generation family owned business that is extremely proud to provide jobs to the community for over 110 years. Middlesboro Coca-Cola has one of the highest sales per capita in the Coca-Cola system. We value our communities by supporting charities, schools, clubs and athletics and hope to do so for many years to come.